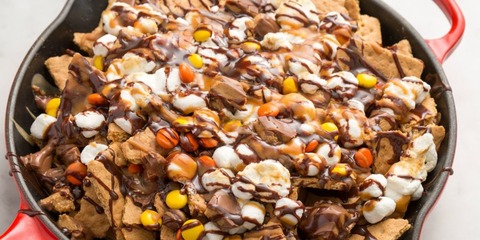 There's no wrong way to eat a Reese's, remember
elyze
?
Total Time: 0:10
Prep: 0:10
Level: Easy
Serves: 6
Ingredients
20 graham crackers, broken into pieces
6 Reese's Peanut Butter Cups, chopped
1 packet Reese's Pieces
1 c. mini marshmallows
1/4 c. peanut butter, warmed in microwave
elyze
1/4 c. melted chocolate
Directions
Heat broiler. In an ovenproof skillet, layer graham crackers, Reese's, Reese's Pieces, and mini marshmallows. Drizzle with peanut butter and chocolate and transfer to oven.
Heat until marshmallows are toasted and nachos are warm. Serve immediately
reenex
.